How To Update Linux Mint To The Latest Release
3 min read
Let's see how to update Linux Mint to the latest version. Recently, Linux Mint came out with their latest release is Linux Mint 20.1, codename "Ulyssa" and we'll learn to update an existing installation to the latest release.
How to Update Linux Mint to the Latest Release?
Updating and upgrading to the latest release of Linux Mint is easy. Follow the steps below and at the end, you'll have the latest version of Linux Mint.
1. Checking Our Current Release
First things first, check the current installation of Linux Mint you have on your device with the cat command:
This should give you an output like the following :

NAME="Linux Mint"
VERSION="19 (Tara)"
ID=linuxmint
ID_LIKE=ubuntu
PRETTY_NAME="Linux Mint 19"
VERSION_ID="19"
HOME_URL="http://www.linuxmint.com/"
SUPPORT_URL="http://forums.linuxmint.com/"
BUG_REPORT_URL="http://bugs.launchpad.net/linuxmint/"
UBUNTU_CODENAME=xenial

As you can see, currently we are running Linux Mint 18 which we shall upgrade to Linux Mint 20
2. Check Your CPU Architecture
Though previous versions of Linux Mint have supported both 32-bit and 64-bit CPUs, Linux Mint 20 comes exclusively for 64-bit machines. Hence to successfully update to Linux Mint 20, you need to be on a 64-bit machine.
To check your version type with the dpkg command:

dpkg --print-architecture

If the output of the command says amd64 you can upgrade to Linux Mint 20, or else you need to stick to Mint 19
3. Update All Packages
Next update all packages with the apt command:

sudo apt update && sudo apt upgrade -y

After this, you might need to reboot your machine before proceeding further.
Or if you prefer the GUI way, you can go :
Launch the Update Manager with Menu ‣ Administration ‣ Update Manager.
Click Refresh to update the cache.
Then, click Select All to choose all the updates
Click Install Updates.
Follow the instructions from the Update Manager and install all updates until the manager tells you the system is up to date.
Reboot the computer.
4. Purge All PPAs And 3rd Party Apps (Optional)
Third party software might cause errors during the upgrade process and hence it is advised to remove them before the upgrade as it might break it. To purge all PPAs and 3rd Party Apps :
Launch the Software Sources tool from Menu ‣ Administration ‣ Software Sources.
Open the Additional repositories tab and disable all additional repositories.
Open the PPA tab and disable all PPAs.
Click refresh
Open the Maintenance tab and click on Downgrade Foreign Packages.
Select all foreign packages and click Downgrade.
Click on Remove Foreign Packages.
Select all foreign packages and click Remove.
Reboot the computer.
5. Take A System Snapshot (Optional)
Next up, just as a backup, you can take a System snapshot in case anything goes wrong. If you are on a VM, then you can either use the VM's snapshot feature to take your system snapshot. Or else, you can take system snapshots using timeshift. To do so :
Launch Timeshift with Menu ‣ Administration ‣ Timeshift.
Follow the wizard to select a destination for your snapshots.
In the toolbar, click Create to make a manual snapshot of your operating system.
6. Installing The Updates
Next up, we will use Linux Mint's Update Manager to safely update to Linux Mint 20.
Open up Mint's Update Manager and select "Edit >> Upgrade to Linux Mint 20.1 Ulyssa"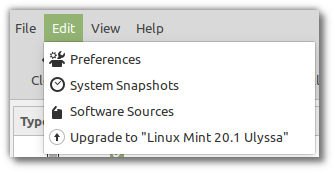 After this, you'll be prompted to enter your password. Make sure that at this point you have your backup ready just in case things go south. Next up, follow the on-screen instructions and click Next till the upgrade process starts.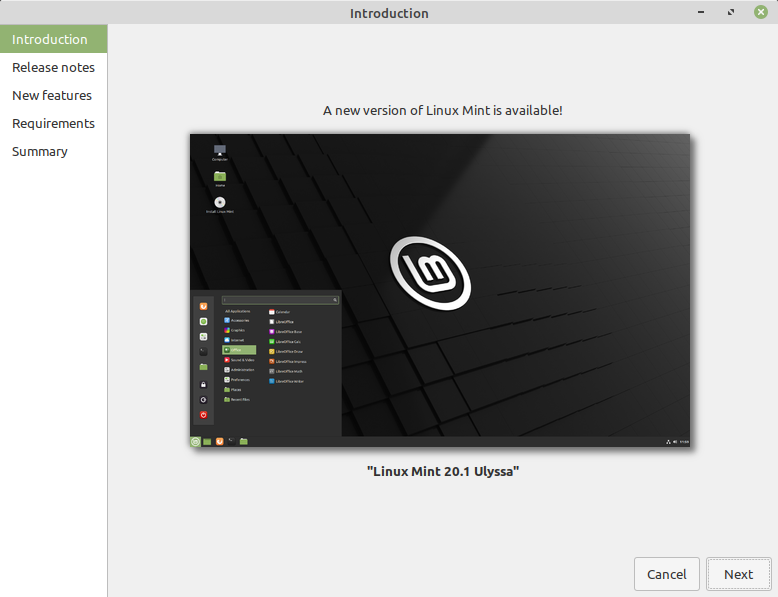 This might take some time. Make sure that you do not turn off your PC during this time and have a stable internet connection.
Once the process is finished, you need to reboot your system only to come back to Linux Mint 20!
Conclusion
That's it. You've successfully updated Linux Mint to the latest release. Linux Mint's GUI tools make the updating process super easy, sparing us the horrors of the command line interface and manual updates. This is one of the reasons, why we consider it one of the best distros for laptops and beginners.
www.hello-android.com