Linux Mint vs Ubuntu – Which one is the best?
5 min read
Linux Mint vs Ubuntu has been a common comparison topic since they're two of the most popular Linux Distros. For a long time, Ubuntu was considered the best distro out of the box for Linux Newbies, but of late it has been in tough competition with Linux Mint for that title. Let's take a look at the detailed comparison of the two so that you can choose between Linux Mint vs Ubuntu yourself.
Linux Mint vs Ubuntu – A Quick Comparison
| | Linux Mint | Ubuntu |
| --- | --- | --- |
| Popularity | Ranks #3 on Distrowatch | Ranks #5 on Distro watch |
| Desktop Environments | XFCE, Cinnamon, MATE | XFCE, Gnome, LXDE, KDE |
| Installation | Easy and very intuitive | Easy and very intuitive |
| Resources | 1GB RAM Recommended and 5GB Storage | 4GB RAM recommended with 25GB storage |
| Default applications | All necessary applications + proprietary third-party apps | All necessary applications + optional third-party application download |
| Customizability | Both are equally customizable depending on how comfortable you are with playing with config files | Both are equally customizable depending on how comfortable you are with playing with config files |
| Maintainer | Community maintained | Canonical |
| Life Time Support (LTS) | For all versions of Linux Mint | Only for the Default Ubuntu versions |
Linux mint vs Ubuntu comparison – quick overview
1. Popularity
First thing which we would have a look at is the popularity of these distros among Linux users. As per DistroWatch, Linux Mint ranks at #3 while Ubuntu follows close behind at #5. Hence we can say that both of these distros are very popular among the community.
2. Available Flavours
Ubuntu ships with Unity as its desktop environment but it is available in several different flavours like :
Xubuntu: Which is based on XFCE
Lubuntu: Which is based on LXDE/LXQT
Kubuntu: Which is based on KDE Plasma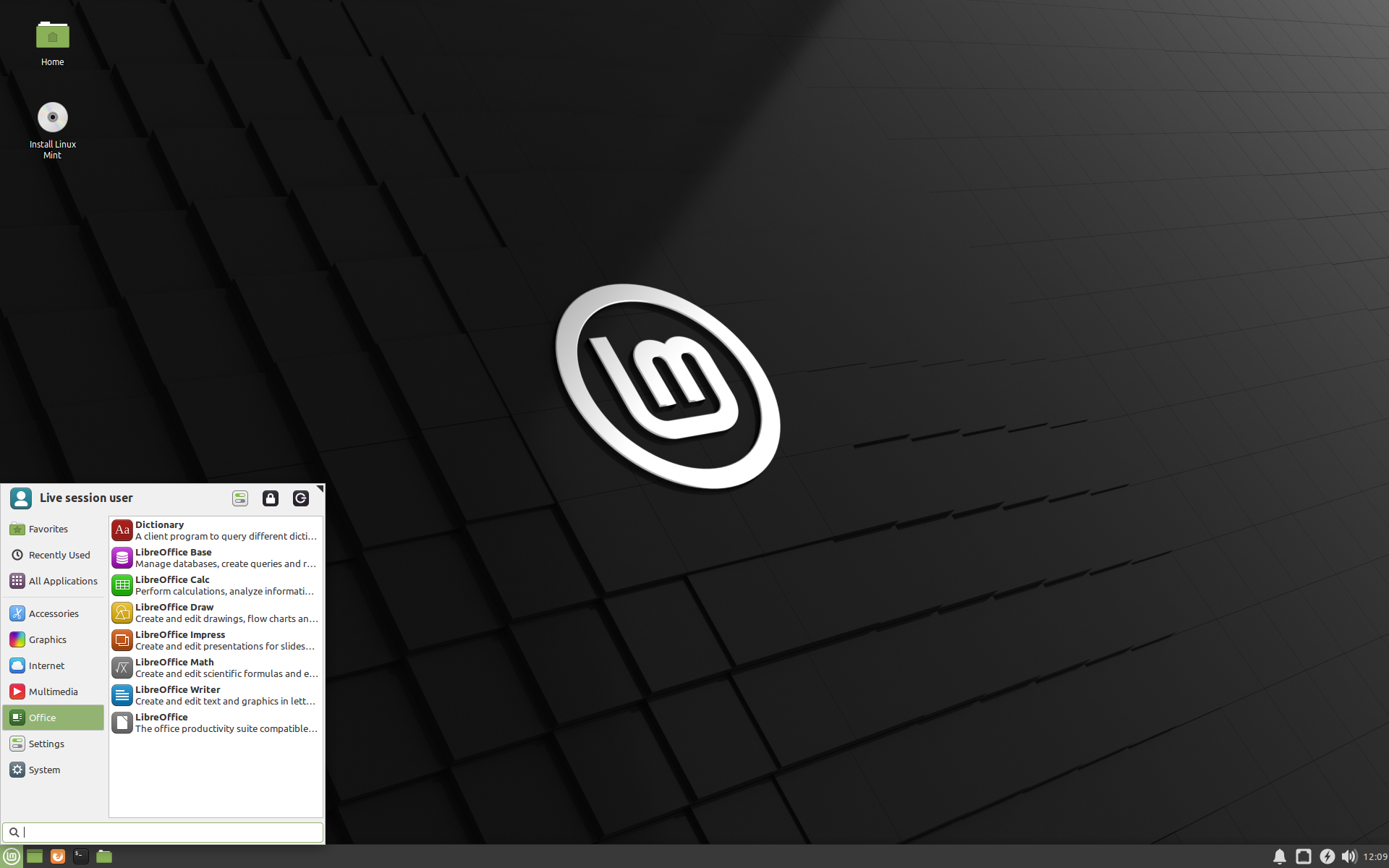 Meanwhile Linux Mint only supports only three Desktop Environments, namely :
3. Ease Of Installation
Both of these distros use a very easy-to-understand graphical installer which makes the installation process very easy. Both of them support EFI installs and the installation process itself very simple for both.
4. Performance
When talking about Distros, performance is a major factor. Ubuntu having Unity as the default Desktop Environment is a bit resource intensive. However, other flavours of Ubuntu like Xubuntu and Lubuntu can run very smoothly on Low specs machine as well.
The system requirements for running Ubuntu is:
2 GHz dual-core processor
4 GiB RAM (system memory)
25 GB of hard-drive space (or USB stick, memory card, or external drive but see LiveCD for an alternative approach)
The system requirements for running Xubuntu are:
1.5 GHz Dual Core processor
At least 2 GB of memory. However, it can run on as low as 512 MB of RAM
8 GB of free space 
The system requirements for running Lubuntu are:
A Pentium II or Celeron system or Equivalent
128 MB of RAM. However it is recommended to have atleast 1 GB of RAM.
8 GB of free space is recommended
The system requirements for running Kubuntu are:
1 GHz processor
512 MB of system memory (RAM)
8 GB of free disk space
Linux Mint, on the other side, is known for being one of the most lightweight distros out there. It can even run on old laptops with very low RAM as well as on modern desktops with high memory.
The system requirements for running Linux Mint are:
512 MB of RAM is the minimum requirement whereas the recommended amount is at least 1 GB.
A minimum of 5 GB disk space but it is recommended to have at least 20 GB of free space.
Both of them should perform decently well on most modern-day personal computers and even if then you face some issues like screen freezing and such, try out a different Desktop Environment till you find the one of your choice.
5. Out Of The Box Software
Both Linux Mint and Ubuntu come with a lot of pre-installed applications right out of the box. You can still download more applications from the software store as required on both pf these distros.
However, here Linux Mint has a slight advantage as it comes with some proprietary software that most users tend to need, such as Flash, Java, audio and video codecs.
6. Software Store
Both Linux Mint and Ubuntu have their own software center from where you can download and install packages.
For Ubuntu, it's the Gnome software (previously Ubuntu's Software Center) from where you can install a wide array of applications with just a few clicks. Mint has its own Mint Software Manager with which you can manage updates and install additional software.
7. Customizability
For this, we will consider the default flavours of both the distributions. One of the best things about Linux is it's extremely customizable nature. However, with Ubuntu it is very limited about which aspects of the distro you can customize as most of it is done away with. Linuz Mint on the other hand has no such restrictions and you can customize it to look however you want.
Then again, when we consider all the flavours out there, Xubuntu and Kubuntu do provide a lot of customization options which allow you to tweak various aspects of the distro.
8. Support
Ubuntu is developed and maintained by Canonical whereas Linux Mint is developed by the community.
Nevertheless, both of them have excellent communities built around them with a lot of forums and discussions to refer from in case you ever get stuck or need some help.
9. Managing Software
While updating software is a matter of few clicks in both these distros, Linux Mint has some significant advantages over Ubuntu.
Linux Mint's software center let's you manage installed software, remove foreign packages, add and remove keys, delete duplicates, add missing keys and a couple of options more all via a GUI.
It also has an automatic troubleshooting option which is very instrumental for beginners and newbies.
10. Longterm Support
Both with Ubuntu (default) and Linux Mint, you get 5 years of support. However for Ubuntu, this is only true for the default flavour, whereas other versions like Kubuntu, Xubuntu, etc, you only get 3 years of support.
Linux Mint has no such restrictions and all it's flavours : Cinnamon, XFCE and MATE have a 5 year support.
Conclusion
Both of these distros are versatile in their own way. Inspite of their subtle differences, both of these distros are very similar to each other. Infact Linux Mint is based off on Ubuntu (except LMDE, which is based off Debian) and hence inherits a lot of features from it and has improved upon them. We highly encourage you to try out both these distros and choose which one swings well with you.
www.hello-android.com