Nothing Phone (1) Feels a Lot Like Everything Else
4 min read
After a year and a half of rumours, teases, and hype, the first phone from Nothing is finally, officially, something. 
The small start-up, launched less than two years ago by former OnePlus co-founder Carl Pei, officially revealed the Nothing Phone (1) in full today at its London headquarters.
It's been a long journey to this point, with fan excitement fuelled by Twitter teases, patent purchases, and cryptic clues – both from the company and Pei himself. And after a few days of using it, despite all the build-up, it turns out that the Phone (1) is just another phone. A competitively priced, well-specced phone with a unique design – but, at the end of the day, a phone nonetheless.
The company's first mobile is a mid-range Android device, starting from £399, and the most noteworthy thing about it remains the 'Glyph Interface' – a series of white LED strips on the phone's rear that can flash in time with ringtones, illuminate when charging, and serve as a makeshift fill light for the camera.  
I'm not quite sure that some flashy LEDs are enough to "mark[s] the start of change in a stagnant industry," as Pei puts it in the press release, but they certainly make the Phone (1) stand out, and have already prompted plenty of questions from friends as I've been testing the handset. 
The semi-transparent design – available in black or white – is also eye-catching, with abstract shapes that hint at the components underneath. It doesn't quite fulfill fans' hopes for true transparent tech that shows off the circuitry inside, but this minimalist mid-step is likely to prove more successful on the mass market. 
Nothing
Look beyond the distractions of the design though, and the Nothing quickly begins to look a little more like everything else. 
The Snapdragon 778G+ chipset isn't the most powerful around, but in my time with the phone I can't say I've ever found it sluggish – though the real test for many is how it handles demanding mobile gaming.  
The 6.55in 120Hz OLED display is typical for the price, though the cameras are less so: Nothing has equipped the phone with a pair of 50Mp rear lenses, one main and one ultrawide, resisting the temptation to bulk up the camera count with cheap macro and depth sensors. So far the two cameras have impressed me, but you'll have to wait for my full review for an in-depth assessment. 
Outside of the design, perhaps the biggest draw for the Nothing Phone (1) may be that it features both wireless charging and an IP53 dust and water-resistance rating – the former in particular is rarely found in handsets at this price, with Apple's iPhone SE pretty much the only comparable competitor to offer it.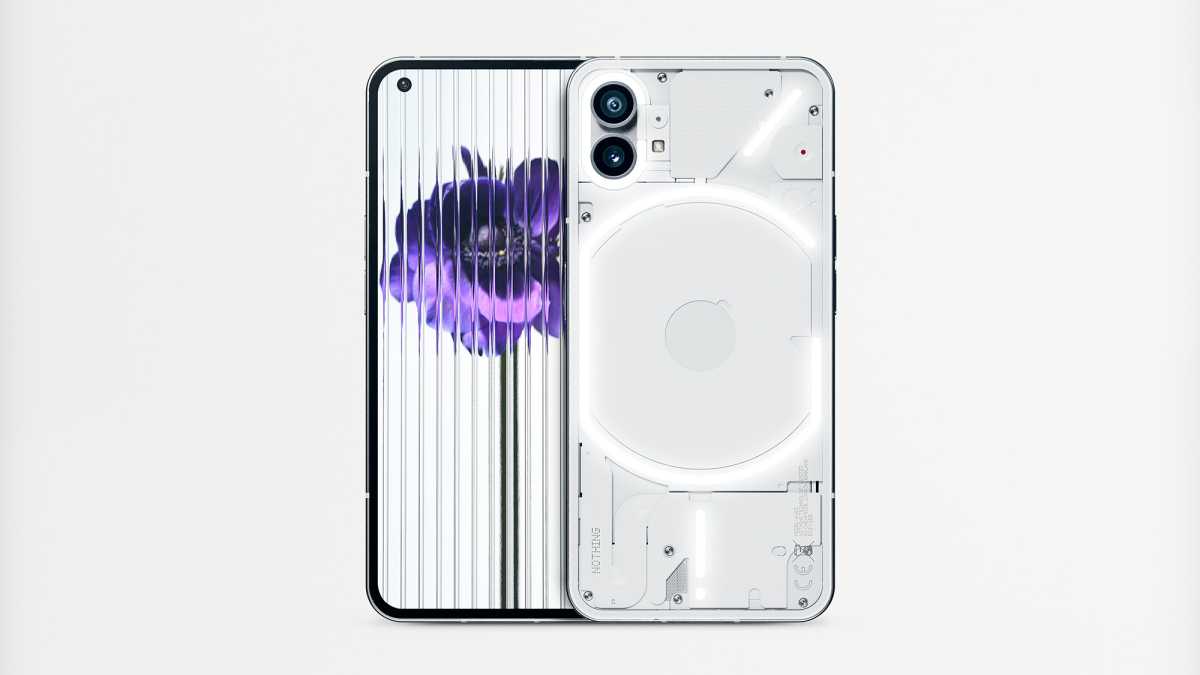 Nothing
The phone's software – dubbed Nothing OS – was also weaponised for the hype campaign when the launcher was released in standalone form to install on other devices earlier this year. 
That launch backfired a little, with fans quick to complain that outside of a minimalist clock widget and some avant-garde wallpapers it didn't do much to disrupt the core Android experience.
The same is, sadly, true of Nothing OS as a whole, which is ultimately a relatively lightweight take on Android that sticks close to Google's Pixel template and mostly innovates by letting you make some of your home screen app icons bigger than the rest.
The company has at least promised a respectable three years of Android updates and a fourth of security patches, a commitment that only the Samsung Galaxy A53 beats in the Android mid-range market – and for what it's worth, Nothing's handset beats the Samsung on most other specs.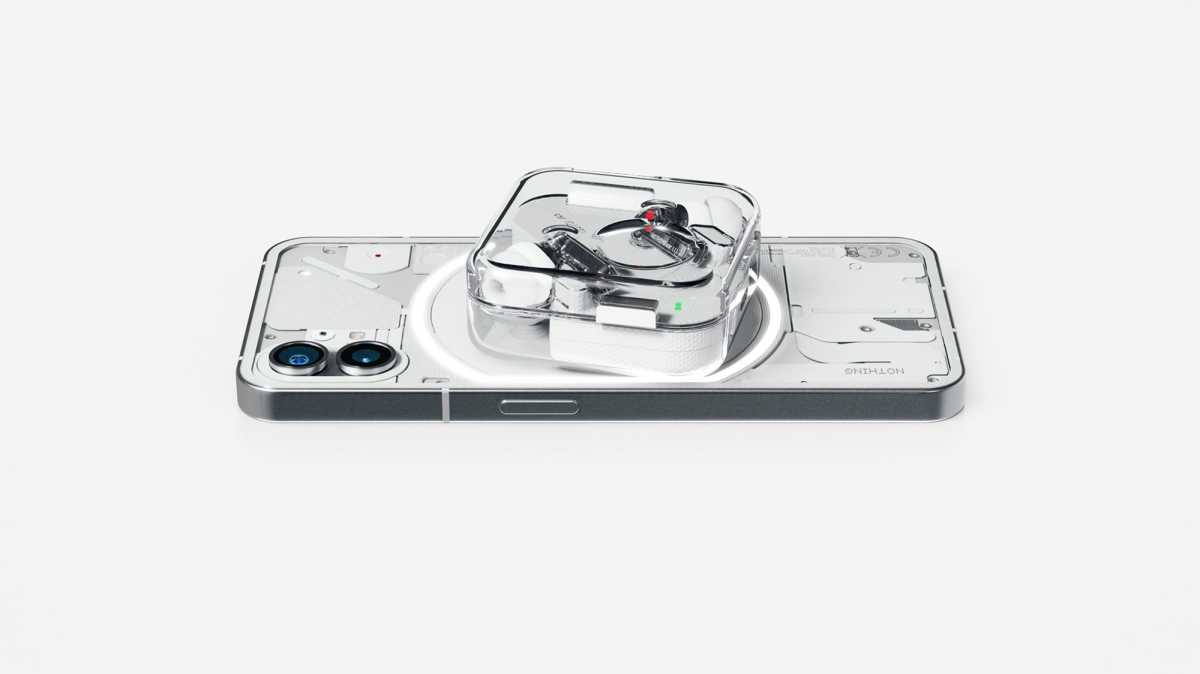 Nothing
With over 100,000 people signing up to the waitlist to buy a Phone (1) ahead of launch, it's clear already that Pei's company has harnessed the hype train to build up a set of loyal customers – many of whom likely already tried out the company's competitively priced Ear (1) true wireless headphones last year.  
That audience is a mixture of those drawn to Nothing's striking aesthetic, former OnePlus fans excited to see what Pei does next, and some of the 'tech bro' scene – ploys to which are seen in Nothing's recent launch of its own NFT line and a collaboration with Elon Musk's Tesla to offer widgets to control smart elements of Tesla cars. 
The bigger question is whether Nothing can capitalise on that rush of popularity and convert it into broader success – or whether that inflated hype will deflate just as quickly once the initial wave of enthusiasm runs out. After all, could any phone live up to the promise of a hype campaign that even Apple would be jealous of?
A (relatively) limited launch area might help, with the company for now concentrating its efforts on markets in Europe and Asia – with no launch plans for North America beyond a small closed beta. 
The Phone (1) starts from £399 for a model with 8GB of RAM and 128GB of storage, rising to £449 for a version with 256GB storage, and £499 for one that upgrades to 12GB of RAM too – though this model won't arrive until later in the summer. Check out our full guide on where to buy the Phone (1) for full availability. 
www.hello-android.com