Don't expect the Surface Laptop Go 3 before late 2023
3 min read
The Laptop Go is the most recent addition to Microsoft's Surface range, and the device has held its own across two generations so far. 
This hasn't come as a huge surprise: it's essentially a shrunk-down version of the main Surface Laptop with slightly weaker specs. But that's reflected in the price, with entry-level models just about cheap enough to be considered budget laptops. 
While the original version was slightly underwhelming, 2022's second generation was a significant step forward. It's easy to recommend, although there's still plenty of room for improvement. 
Hopefully, Microsoft will address some of these weaknesses in the third generation, although it's unlikely to arrive anytime soon. Here's everything you need to know. 
When will the Surface Laptop Go 3 be released?
As you might expect, there are no concrete Surface Laptop 3 release date rumours at this stage. However, the first two iterations may provide some clues: 
Surface Laptop Go 2 – June 2022 
Surface Laptop Go – October 2020 
That 20-month gap is longer than we'd typically see from Microsoft, but the pandemic and global chip shortage may be to blame. The company tends to announce new Surface hardware in May/June and September/October, and the latter feels like a more natural fit for the Laptop Go 3 in 2023. 
Remember, this is just speculation and guesswork at this stage. Microsoft is thought to be working on the device, but that's about all we know for sure. 
How much will the Surface Laptop Go 3 cost?
Pricing often isn't revealed until a new Surface device officially launches, but the previous generations should serve as a fairly accurate guide here: 
Surface Laptop Go 2 – from $599.99/£529, can cost up to $799.99/£729 
Surface Laptop Go – from $549/£549, can cost up to $899/£899 
Despite the upgrades on the Laptop Go 2, it was encouraging to see the price remain roughly the same. There may be a slight increase by the time its successor arrives, but Microsoft is unlikely to deviate too much – it'll surely want all models to remain cheaper than the regular Surface Laptop. 
Surface Laptop Go 3 design & new feature rumours
The Laptop Go 2 only launched in June, so the rumour mill has shifted to Microsoft's next batch of devices, which may include the Surface Pro 9 and Surface Laptop 5. 
It means there's no news regarding the Laptop Go 3 at this stage, but we still have a fairly good idea of what to expect. Microsoft is unlikely to deviate from the formula which made the first two generations a hit, including a compact design and premium build.  
There may be some tweaks to the 12.4in display, but it'll probably still be smaller than the average laptop. The same can be said for the 1.16kg weight, which makes it one of the lightest portable PCs you can buy. 
Dominik Tomaszewski / Foundry
So, what upgrades can you expect? We're almost certain to see new CPUs, and they're likely to still be from Intel. The Laptop Go is typically one generation out of date, making the current 12th-gen chips a strong candidate. If the device is delayed until 2024, look out for 13th-gen silicon instead. 
But could there also be the option for an ARM-based CPU? These have been limited to the Surface Pro X so far, but there are rumours (from Windows Central) that a Qualcomm chip will power some Surface Go 4 models.  
Microsoft will probably focus its expansion of ARM on more affordable devices, making the Laptop Go 3 a likely candidate. However, it's worth noting that it's pure speculation at this stage. 
Should the Laptop Go 3 shift to ARM, it may yield a noticeable boost in battery life. It could allow the device to deliver all-day battery life without increasing the 41Wh capacity. 
Hopefully, Microsoft will improve the 39W charging and stop using Surface Connect as the main charging method, but the latter seems unlikely. It'd also be nice to see improved thermals and backlit keys, which remain a high-profile omission.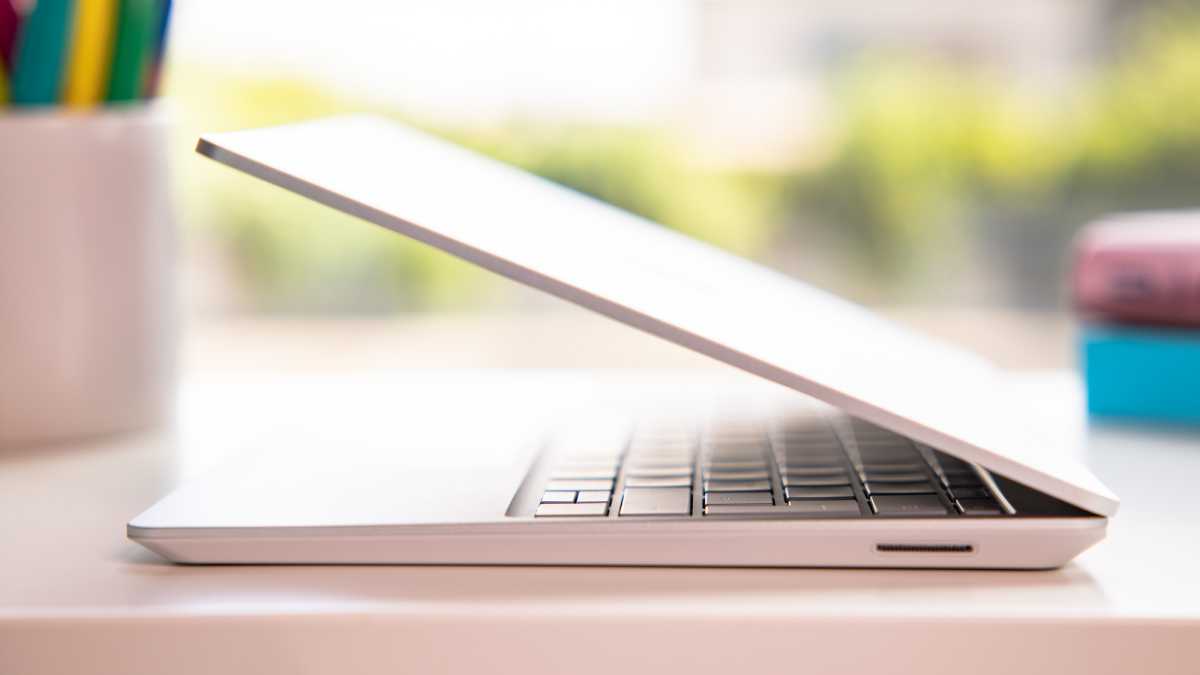 Dominik Tomaszewski / Foundry
We'll update this article once more is known about the Surface Laptop Go 3. 
Related articles you may like
www.hello-android.com