Best laptop 2022: What laptop should I buy?
15 min read
Laptops have thwarted the attempts of tablets to take over and remain a staple of the tech world, especially in the new hybrid working era brought about by the pandemic. There are almost endless amounts to choose from with a complicated range of models and specs so we've reviewed and ranked the best right here.
We've tested and ranked 15 of the best laptops you can get right now and we're adding more (and getting rid of old models) on a regular basis – more 2022 models will arrive as soon as we can get them. You'll find a summary along with our expert rating and where you can buy each laptop, but make sure you click through to each review for more details.
If none of the laptops we've listed here is quite right for you, let us arm you with the knowledge you need to help you choose what laptop to buy. Following the chart, you'll find extensive buying advice that covers everything from what processor is suitable to how much storage you'll need and whether or not you should be looking for a more portable option.
If value is your primary concern, we've also scoured the web for laptop deals and the best budget laptops.
Top laptop reviews
1. Huawei MateBook 14s (2021) – Best Overall
Pros
Plenty of power & ports
Killer keyboard
90Hz display
Fixed webcam
Cons
Plain design
Thunderbolt 4 only on top SKU
Webcam only 720p
Pound for pound, the MateBook 14s is the best laptop you can buy right now. A great blend of performance, design and affordability means it's easy to recommend, especially with the webcam back above the screen rather than hidden in the keyboard. The latter is only 720p, but a separate IR sensor means there's still support for Windows Hello face unlock as an alternative to the fingerprint sensor.
Almost everywhere else, the 14s is mightily impressive almost everywhere else. 11th-gen Intel CPUs and up to 16GB of RAM means performance is excellent, provided you don't need a device for gaming or 4K video editing.
Other highlights include a 2.5K touchscreen display, complete with 90Hz refresh rate for smooth visuals. You also get a decent port selection, solid battery life and one of the best keyboards you'll find in any laptop. There's even a 90W fast charger included in the box.
It's worth noting that there is now a 2022 version of the MateBook 14s, but aside from new Intel CPUs it's essentially the same device.
Read our full
Huawei MateBook 14s (2021) review
2. Apple MacBook Air (M1) – Best MacBook
Pros
Powerful components
Long battery life
iOS apps
Cons
Very limited ports
Throttled performance
The MacBook Air may not look any different to its predecessor, but it's what's on this inside that counts.
Offering a significant boost compared to the 10nm Intel CPU that powered earlier MacBook Air models, the 5nm M1 chipset is blisteringly fast in operation, handling light video editing and gaming via Apple Arcade without breaking a sweat.
It's faster than many Intel-based Windows alternatives, offering great bang for your buck from Apple's entry-level ultralight laptop. There's also a big jump in battery life and the display is top-notch, as are the keyboard and trackpad.
It's fanless, which brings the benefit of silent running, but it also means that the laptop will throttle performance to keep things cool. But that's not an issue unless you plan on gaming or video editing for hours.
The MacBook Air has now had a 2022 refresh, but it's $200/£200 more expensive than the original and introduces a notch. With frequent discounts, this original model is where you'll find the best value for money.
Read our full
Apple MacBook Air (2020) M1 review
3. LG Gram 17 (2021) – Best big screen
Pros
Insanely light
Stunning battery life
Excellent screen
Cons
Spongy keyboard
McAfee pop-ups
We didn't think LG could make the Gram 17 much better, but the 2021 model has really nailed it.
It remains an incredibly lightweight marvel of engineering, but LG has now improved our main problems with the 2020 model – namely the speakers and trackpad. Design refinements mean the Gram 17 looks better than ever, while performance from 11th-gen Intel chips is impressive.
But on a 17in laptop that weighs just 1.35kg, getting such great battery life is a pleasant surprise. There are plenty of ports here for most people (including Thunderbolt 4), plus above-average speakers and an excellent display, although the latter isn't touchscreen.
If you can look beyond a spongy keyboard and the relatively high price, the Gram 17 is the large laptop to beat. There is a 2022 version, but new CPUs and the option for a discrete GPU are the only real upgrades.
Read our full
LG gram 17 (2021) review
4. Huawei MateBook 16s (2022) – Best 16in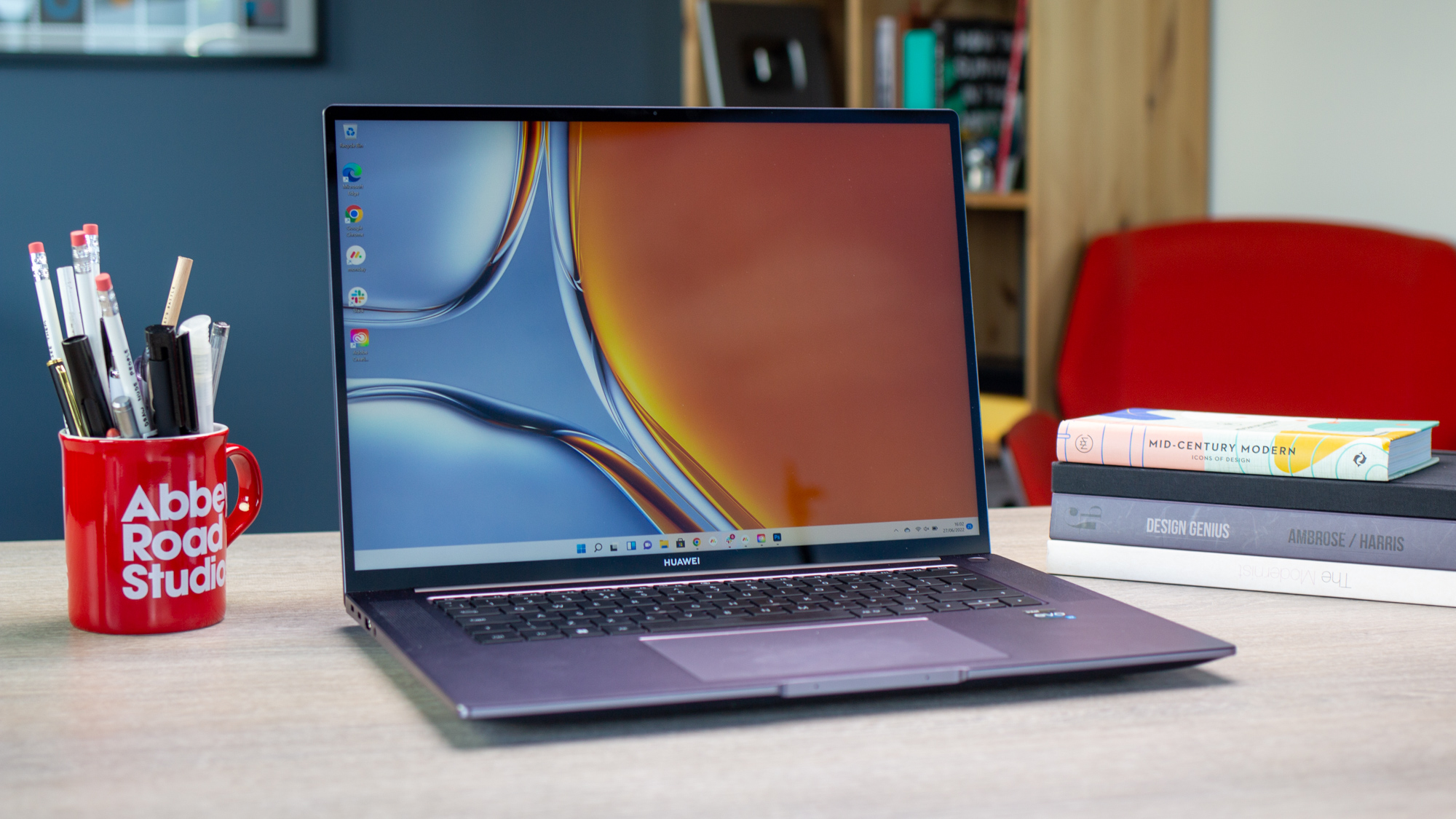 Pros
Superb display
Fast charging
Lots of ports
Solid performance
Cons
No discrete GPU
No NumPad
Can get expensive
If you're specifically looking for a 16in laptop, there's more choice than ever in 2022. But the new MateBook 16s takes the crown, performing well in almost all the key areas. Performance from 12th-gen Intel CPUs is solid, especially when used in tandem with the gorgeous, large, touchscreen display.
Other highlights include a generous 84Wh battery with impressive fast charging, alongside a diverse range of ports and Huawei's trademark premium design.
It's big, bulky and there's no discrete GPU, but if you can look beyond these things the MateBook 16s could be for you.
Read our full
Huawei MateBook 16s (2022) review
5. Dell XPS 15 (late 2021) – Best 15in
Pros
Plenty of power
Impressive screen
Great keyboard
Robust design
Cons
Expensive
Middling battery life
Only USB-C
High Delta E
The Dell XPS 15 remains one of the best-looking business laptops on the market, thanks to its aluminium and carbon fibre finish.
It excels in many other areas, too: its Core i7-11800H processor is very fast, while the laptop also boasts plenty of storage and a great keyboard.
A 15in display is vibrant and a joy to use, especially when combined with excellent speakers. It's also got the battery power to handle a day of work in most scenarios.
XPS machines are never cheap, though, and the 9510 is not perfect. You'll want to look elsewhere if colour accuracy is a top priority, and you'll be able to find better battery life and a broader selection of ports elsewhere.
Read our full
Dell XPS 15 9510 (late 2021) review
6. HP Envy 13 (2021) – Great Value Core i5
Pros
Great display
Solid speed & battery
Sleek design
Quiet keyboard
Cons
No HDMI or Thunderbolt
Expensive i7 model
Disappointing trackpad
The HP Envy 13 looks decent, it's got a superb screen, and it has rock-solid everyday computing power in its Core i5 guise. It's also got a solid keyboard and good battery life. In many respects, it's an impressive everyday ultraportable.
HP's core laptop has been a favourite of ours for years but the 2021 model has taken a dip and the
2020 model is now hard to find.
It's still a good laptop and comes at an affordable price unless you're looking at the i7 SKU, and you might not enjoy the lack of HDMI and Thunderbolt either. You can find sturdier designs elsewhere and better trackpads, too.
Read our full
HP Envy 13 (2021) review
7. Samsung Galaxy Book Pro 360 – Best Convertible
Pros
Solid performance
S-Pen support
Great battery life
Optional 5G
Cons
Expensive
No dedicated GPU
Screen could be brighter
Samsung continues to make excellent convertible 2-in-1 laptops since its return to the laptop market and this is our new favourite, even though the Galaxy Book Flex 2 is still a great option.
The screen could be a bit brighter and there's no dedicated graphics card here but the excellent design and stylus support make the Book Pro 360 a versatile machine that will cope with a wide range of regular and creative tasks.
Performance is still solid, battery life is formidable and you can even opt for 5G mobile data if you need it. A newer Galaxy Book 2 Pro 360 is now available, while the regular Book 2 360 is worth considering if you're looking for a more affordable option.
Read our full
Samsung Galaxy Book Pro 360 (2021) review
8. Microsoft Surface Laptop 4 – Best Build Quality
Pros
Excellent display
Solid performance
Great battery life
Cons
Noisy fans
Limited ports
Top-specs overpriced
It's more of the same from Microsoft here and while the design could maybe do with a refresh, the Surface Laptop 4 is another great all-rounder notebook that will suit many different users. 
The fans can be a bit loud, but performance is solid from either AMD or Intel chips and battery life is strong, too. A high-end display and a nice keyboard make for a comfortable experience. 
However, top-end models are overly expensive, and we'd like to see some options like an OLED panel and optional LTE connectivity. 
Read our full
Microsoft Surface Laptop 4 review
9. Huawei MateBook X Pro (2021) – Best Keyboard & Trackpad
Pros
Great performance
Slick design
Excellent trackpad
Cons
Below-average battery life
No discrete GPU option
Awkward keyboard webcam
The design is getting a little tired after four years, especially the webcam placement when video calling is more important than ever, but the X Pro still looks slick and has premium build quality.
Better battery life can be found elsewhere and there's no longer an option for a dedicated graphics card which is a shame. It's not as Pro as before but remains an excellent choice in various other ways.
The latest Intel chips are fast, the 3:2 screen is decent and the X Pro is among the best for keyboard and trackpad.
Look out for the MateBook X Pro 2022 which we've rated highly and should go on sale soon.
Read our full
Huawei MateBook X Pro (2021) review
10. LG Gram 16 (2022) – Best Design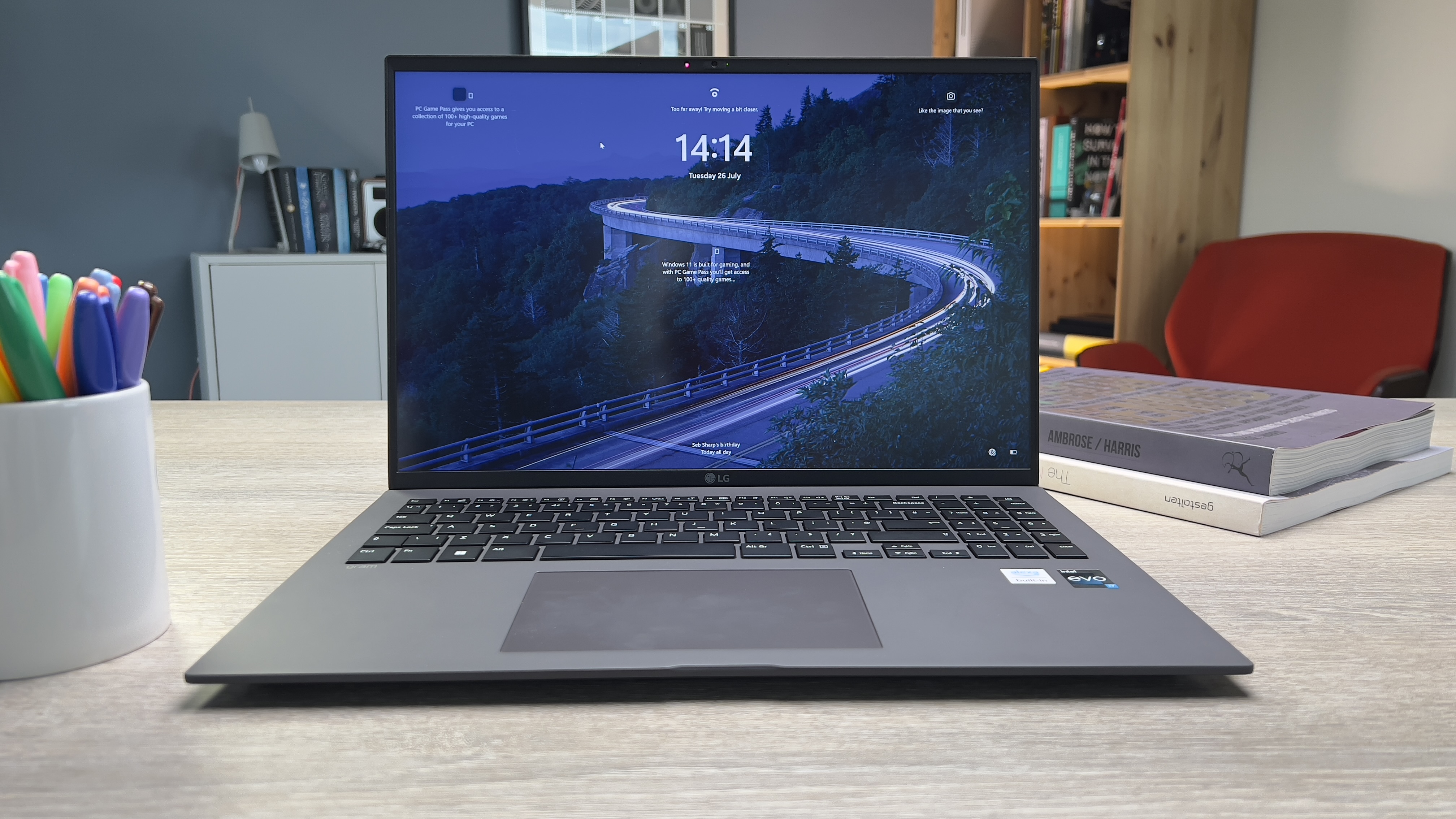 Pros
Thin and light
Stunning matte display
Solid battery life
Cons
No discrete GPU
Refresh rate only 60Hz
More expensive than some rivals
The Gram 16 being so low on this list reflects the strength of laptops in 2022, but also that it's not quite as impressive as it once was.
It uses 12th-gen Intel CPUs, but not from the most powerful H-Series and still with an integrated GPU. Many premium laptops are shifting to a high refresh rate display, but the Gram 16 is still stuck at 60Hz. At this price, it's harder to accept these compromises.
But we'd still recommend considering it due to the way it excels in other areas. The Gram 16 is still incredibly thin and light, while a matt coating on the screen contributes to an excellent viewing experience. Battery life is among the best you'll find in any laptop, and it's impressively durable for a device that's so portable.
Read our full
LG Gram 16 (2022) review
11. Microsoft Surface Laptop Studio – Best 3-in-1
Pros
Great 120Hz screen
All three modes work well
Impressive battery life
Solid performance
Cons
Expensive
Limited to three fixed positions
Not enough ports
If you're looking for a 2-in-1 laptop, well how about a 3-in-1 which Microsoft has achieved with the Surface Laptop Studio.
The screen might not detach like the Surface Book but a slick hinge design means you can quickly alter the Studio between three useful modes, although we'd like to adjust the angles on some.
The laptop also has a gorgeous 120Hz display, which can automatically adjust depending on what you're doing. This should boost already-solid battery life, while a dedicated RTX 3050 Ti GPU at the higher end helps deliver impressive performance.
Combined, these features make it a well-rounded and versatile laptop. It is at the premium end in terms of price and we'd like more ports but the Surface Laptop Studio could make an excellent choice for some users.
Read our full
Microsoft Surface Laptop Studio review
12. Asus ZenBook Duo – Best for Multi-Tasking
Pros
Dual-screens
All-round performance
Lightweight
Cons
Cramped keyboard
Tiny trackpad
Expensive
The innovative ZenBook Duo hinges, quite literally, around its second screen and makes for an interesting setup if you like the idea of having two screens without having to plug one in.
It makes for impressive multi-tasking for certain situations once you get used to it and performance is good for a wide range of tasks as well as decent battery life. It's also surprisingly light and portable for a machine with two displays.
That second screen does have downsides though, mainly the knock-on effect to the keyboard and trackpad, making them small and awkward.
Read our full
Asus ZenBook Duo UX482 (2021) review
13. Asus Zenbook 14 (UX3402) – Best 14in Display
Pros
Excellent OLED display
Great battery life
Thin and light
Impressive port selection
Cons
OLED only on more expensive models
No discrete GPU
The Zenbook 14 might be at the bottom of this list, but that still makes it one of the best laptops you can buy right now.
Highlights include a stunning 14in OLED display, premium design and lots of ports, all within a 1.35kg chassis. Battery life is also excellent, while Intel's latest CPUs deliver solid performance. Some people might miss a dedicated GPU and the webcam isn't great, but these are minor inconveniences.
If you can afford one of the more expensive models with an OLED display, this is a great option.
Read our full
Asus Zenbook 14 (UX3402) review
14. Microsoft Surface Laptop Go 2 – Best small laptop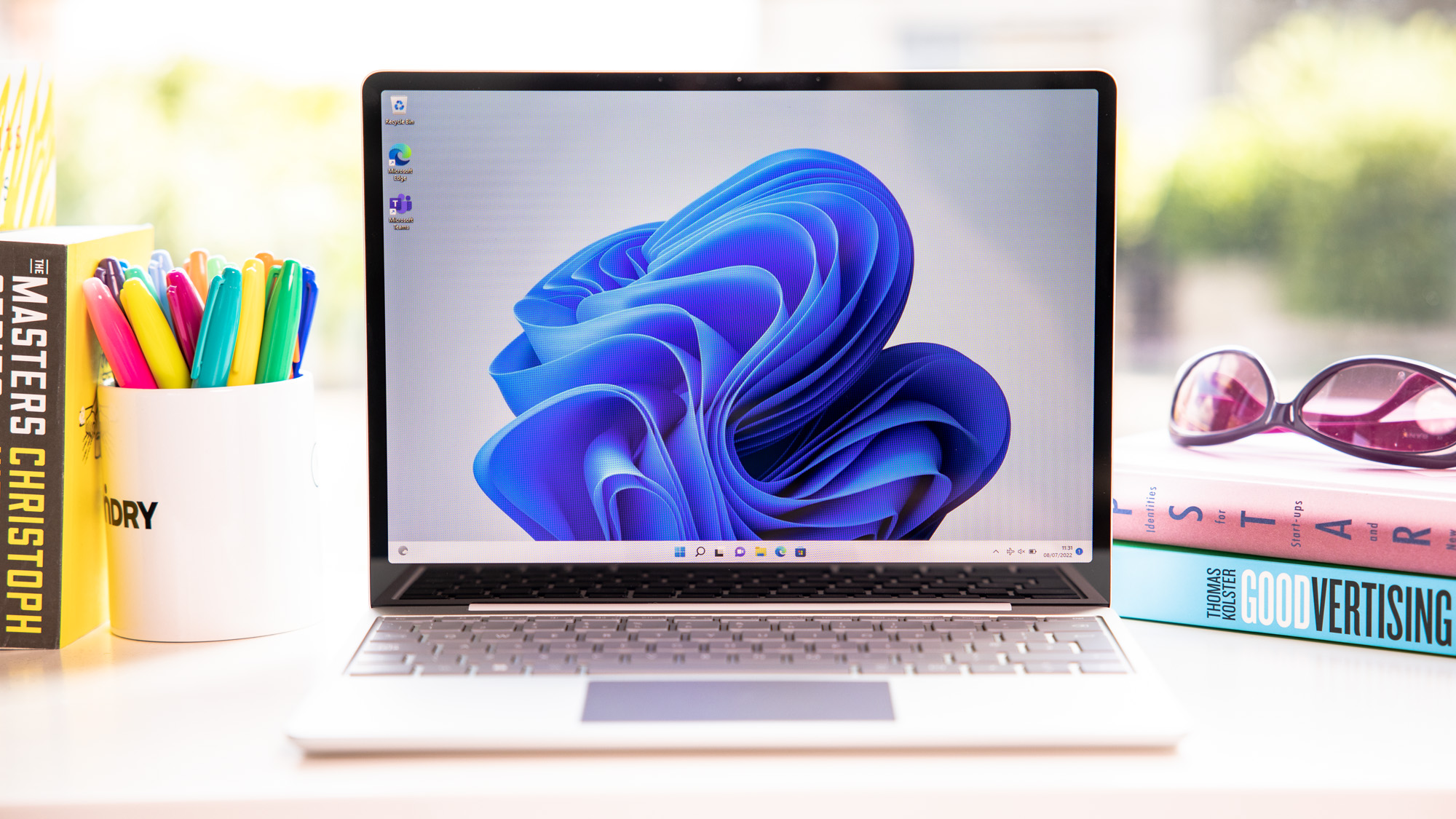 Pros
Impressive performance
Great keyboard
Decent battery life
Extremely portable
Cons
Often runs hot
Slow charging
No backlit keys
Want a regular laptop but need a smaller screen? The Surface Laptop Go 2 is typically associated with students, but it's a great option for everyone.
The key selling point here is a 12.4in display, making it much more compact than your average laptop. At 1.16kg and 15.7mm, it's a thin and light device which doesn't make big sacrifices to get there.
Performance from 11th-gen Intel CPUs is impressive, while the keyboard offers a surprisingly great typing experience given its size. Even battery life – something often sacrificed for designs like this – is above average. Hopefully Microsoft will work on improving charging speeds and thermals next time around, but the Laptop Go 2 is still easy to recommend.
15. Asus TUF Gaming A15 – Best for Gaming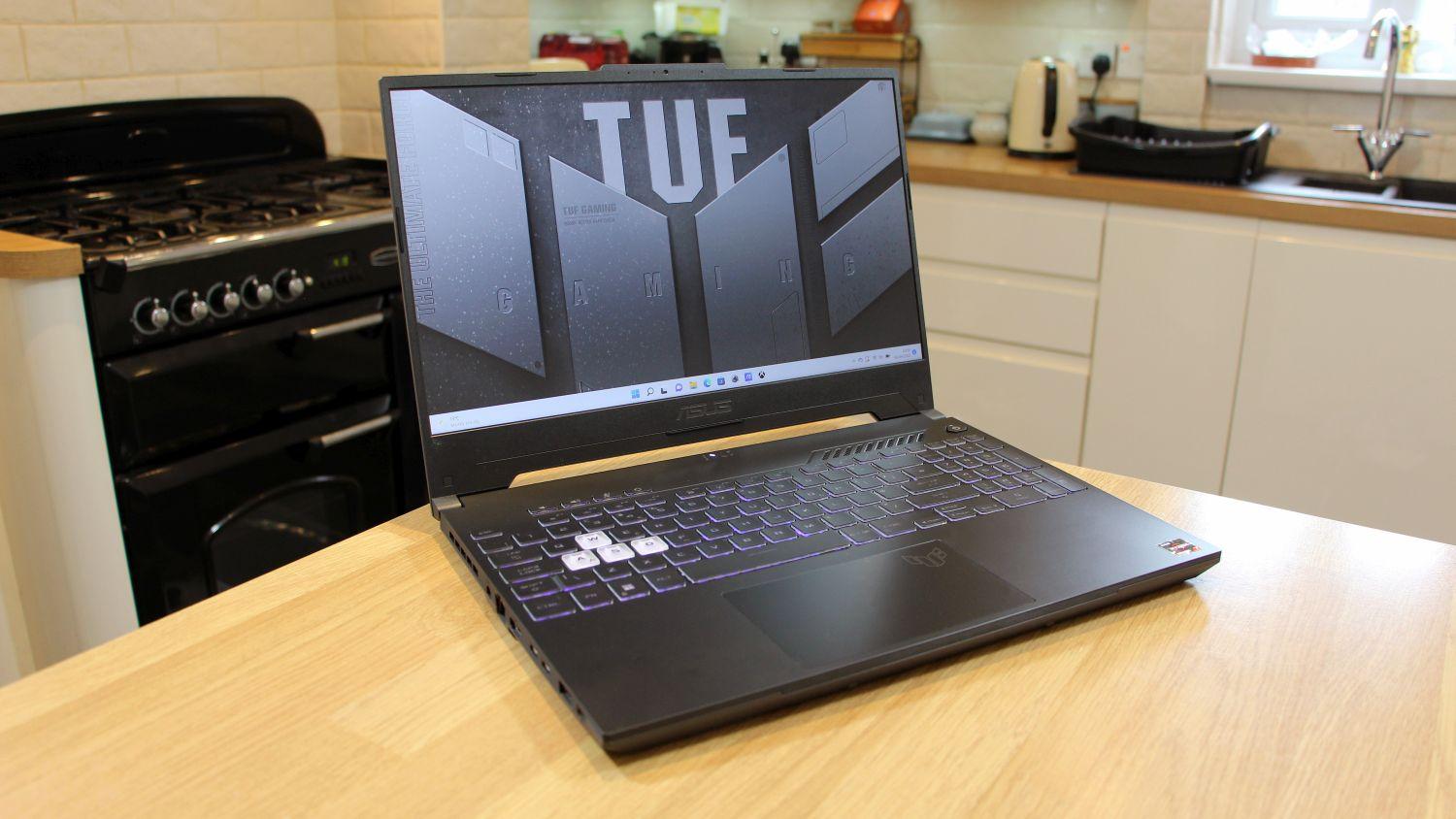 Pros
Excellent performance
Stunning hi-res screen
Decent battery life
Relatively affordable
Cons
Average build quality
Slow USB ports
Underwhelming trackpad
The TUF Gaming A15 isn't a laptop most people should consider, but it's an excellent option for people who want a portable gaming machine.
A heavy, bulky will put many people off, but it means the device has some incredible specs. A powerful AMD Ryzen 7 processor is paired with Nvidia's RTX 3060 discrete GPU to help the A15 handle very demanding workloads. It's supplemented with 16GB of RAM and a generous 1TB SSD.
The 15.6in 1440p display is a joy to use, especially with its 165Hz refresh rate. Battery life is better than many gaming laptops and there are plenty of ports, although the USB ports could be faster. You also miss out on a fingerprint scanner, while the webcam and trackpad aren't great.
But for gamers, this remains one of the best ways to play anywhere without making big sacrifices to the quality of your experience. As a result, it's easy to recommend, but only to specific people.
Read our full
Asus TUF Gaming A15 (2022) review
How to choose a laptop
Sometimes you just can't beat a bigger screen, a keyboard and Windows for getting stuff done, and then your only choice is a laptop. There are many different kinds, including hybrids that can be either laptop or tablet, high-end gaming laptops, cheap and cheerful budget models, and even those running macOS rather than
Windows 10.
How much should you spend on a laptop? 
Sometimes the best does come at a steep price, but equally you can get a lot of laptop for under £500 or even £300 – provided you need only complete basic tasks such as web browsing, writing emails and creating the odd document.
Around $500/£500 or above can get you a solid laptop, but it's likely to have an entry-level set of specs. We're talking a relatively basic processor, minimal SSD storage and a relatively low-quality screen. It might also be on the heavy side.
Pay $700/£700 or more and you should get a blazing fast processor, plenty of RAM, loads of storage and a gorgeous display. You should also expect excellent build quality and premium materials. Many laptops these days are above $1,000/£1,000, which is when you start getting the likes of 4K touchscreens and ultra-lightweight builds.
Students, this selection of laptops is just for you.
We've shown you our favourite laptops available right now and offered some advice on how much to spend, but if you're still undecided we might be able to help break down your options further. Here we talk about screen size, storage, processors and more to help you make your decision.
What screen size laptop do you need? 
Laptop screens range from around 11in to 17in. A smaller screen might be harder to work on and offer fewer ports, but it will be more portable.
A 17in laptop, on the other hand, is a desktop replacement laptop and not designed to be moved around often. Generally, 13- or 14in is the sweet spot for portability and usability.
While some cheap laptops have a resolution of 1366×768, there are Full HD, Quad HD and even 4K laptops available. A touchscreen will add to the cost and generally isn't needed on a laptop, but it is an extra convenience. Also lookout for a matt, non-reflective screen.
What you won't find here is a laptop with a high refresh rate display, with that technology primarily used in gaming hardware. However, more consumer laptops with screens of 90Hz and above could arrive soon are coming to market these days, while Mini-LED displays are on the way soon.
How much laptop storage do you need? 
How much storage you need depends on what you want to use a laptop for. As a general rule of thumb get as much as possible without wasting money on the upgrade.
An SSD will help your laptop run faster, but offers less space for your files (consider supplementing it with a portable USB drive). You can also use cloud storage – but only when you have an internet connection.
Memory (RAM) is where programs and files are stored only while you're using them, and more is always better – up to a point. Consider 4GB as a minimum, although 8GB or even 16GB will be the sweet spot for most people.
These Google-powered laptops might struggle to make it into this chart, but we have rounded up the best Chromebooks if they are more suited to you. They're great for basic tasks and online work, but not much more.
Which laptop processor is best? 
Unless you're going to run complex and demanding software or gaming, you don't need a top-spec processor. If you are looking for something for games, we have a separate round-up of
best gaming laptops.
If you're happy to splash out you're probably looking at the latest generation of Intel or AMD CPUs. Entry-level spec models are likely to offer a Core i3/Ryzen 3 or even something from the companies' budget ranges.
There's no need to get a laptop running the latest processors – waiting at least a few years before upgrading will be fine for most people. If you're set on a Windows device, it's probably a straight fight between Intel's Alder Lake and the AMD Ryzen 6000 Series right now.
You can also find laptops with Qualcomm processors, the company known for its smartphone and tablet chips. Compatibility issues mean ARM-based devices still aren't the best option for most people, but the Snapdragon 8cx Gen 3 is a very capable chipset and battery life is usually excellent.
Thin and light laptops
Buying a thin and light laptop is no different than any other laptop, except that your priorities are likely to be different. You might want an ultraportable laptop that's light and will last a long time on batter power. 
However, other people want an device that's powerful and can handle demanding applications without breaking your back when you carry it around. Both are available.
Compromises are inevitable if you want a thin and light laptop, though. There's less space for a battery, so it's common to find shorter runtimes. Thin laptops also tend to have shallow key travel – look at specific reviews to see how much of an issue this is.
You'll also likely miss out on ports and connectivity. These can be extremely limited, and you'll want to avoid carrying a hub or adapter with you if possible. If HDMI or USB-A is important to you, make sure the laptop you're considering has them.
Warranty and other considerations 
We recommend all the laptops here: there isn't a duff one among them. However, we urge you again to read through the full review before spending your hard-earned cash. None is perfect and what will best suit your needs might not be the device ranked at number one.
Battery life and warranty vary between laptops. The latter may differ depending on where you buy the laptop from, too. John Lewis, for example, tends to offer longer warranty than rivals.
After-sales service is something you should consider for everything you buy. Check whether the company has a UK-based support line, and forums (including our own) are an ideal place to ascertain whether a manufacturer is generally good or bad at carrying out work under warranty.
www.hello-android.com